Desktop replacement laptops put incredible power in a portable package that you can take anywhere. They also make concessions to conform to a clamshell form factor that's unnecessarily rigid for deployment on a desk. The legacy blueprint not only limits cooling, but also and locks you into a fixed position that's really only required for use on a lap. That's the last place you'll find most desktop replacements, so we reimagined the form factor to raise your game. Instead of sitting flat, the ROG Mothership stands tall to draw more air into its advanced cooling system. Its keyboard detaches and folds to fit different scenarios, giving you the freedom to find the perfect position, and the innovative design leaves enough room to put all the speakers right below the screen.
The exquisitely machined aluminum chassis frames an ultra-fast 144Hz/3ms G-Sync display powered by the latest NVIDIA GeForce RTX™ graphics and Intel® Core™ i9 processor. Better cooling allows us to push the CPU and GPU beyond stock speeds and still sustain exceptional performance with demanding workloads. The factory overclocked core is complemented by a strong supporting cast that includes an insanely fast RAID 0 array with three NVMe SSDs, plus next-gen networking that enables greater than gigabit speeds for both wired and wireless connections.
A radical internal concept made real, the ROG Mothership caters to connoisseurs who appreciate the engineering and craftsmanship that goes into premium PC hardware. This groundbreaking desktop replacement redefines what's possible for portable gaming machines that take hardcore horsepower to go.
HOW PROJECT MOTHERSHIP WAS BORN
Every year our designers, engineers, and other experts gather for brainstorming sessions that inspire the next generation of products from the Republic of Gamers. The idea for the ROG Mothership came out of one of those meetings almost three years ago. We knew high-performance laptops were starved for airflow because they draw from a narrow gap between the base and the desk, which is sort of like forcing an athlete to breathe through a straw, and we wondered how much the situation could be improved by putting key components behind the display, where they could inhale more freely from the back. To investigate, we propped up one of our existing desktop replacement laptops and did some testing. Core temperatures were much cooler with the standing orientation, which validated the idea and spawned Project Mothership to pursue it.
Even with a more traditional fixed keyboard, the initial concept was the most revolutionary project presented at the time. It was ultimately deemed too aggressive for production and went on hiatus to devote resources to other projects. But the idea stuck, and further research gave us insight on how it could be improved. We looked more closely at how gamers use desktop replacement laptops and saw that many connect an external keyboard and display. Having the laptop occupy so much desktop area was a real impediment to achieving a comfortable position. A lot of gamers prefer their keyboards off to the side and at an angle, which simply isn't possible with traditional laptops layouts.
The next prototype introduced a detachable keyboard with a folding design that dramatically reduced the system's overall footprint. This granted the flexibility to not only position the keyboard to suit your stance, but also replace it entirely without wasting desk space. Separating the keyboard and display makes it easier to situate the screen in multi-monitor arrays or on a shelf to achieve the optimal height for comfortable extended use.
When the bottom edge of the chassis touches a surface, a stepless kickstand pops out automatically to allow one-handed deployment. The hinge offers a range of angles for different setups, from standing straight and leaning back. You can even hunch over the display to look down on the battlefield, a position favored by a former professional gamer who works for ROG.
ROG has a history of liquid-cooled laptops dating back to the GX700. Project Mothership explored something similar but ultimately decided on air cooling. Getting the most out of liquid requires a large external radiator that compromises portability, and we realized that the free-breathing intakes gulp enough air to effectively cool a single CPU and GPU. The unique design is so much better for air cooling that we were able to reduce the thickness of the chassis to only 29.9mm—more than 10mm thinner than the prototype. That's still far from a Zephyrus, but the complete package is surprisingly portable.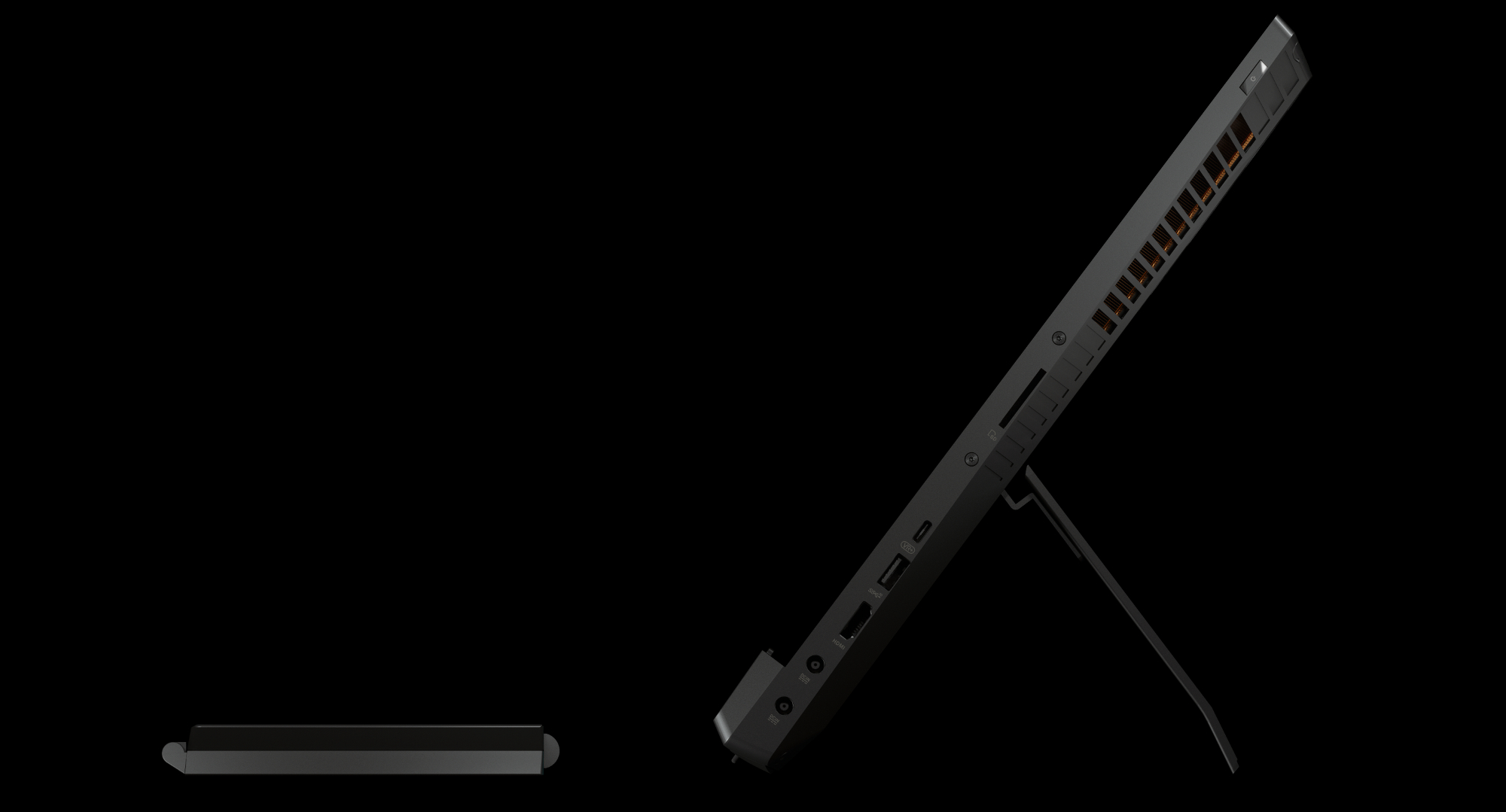 Squeezing so much power into a chassis this size is still challenging. The motherboard is meticulously shaped and painstakingly populated to make the most of limited PCB real estate and maximize open space for the cooling, battery, and speakers. There are even cutouts to make room for the mechanism behind the kickstand hinge.
The main body pieces are machined from solid slabs of aluminum using a precise CNC milling process that ensures a perfect fit. The process steps through 114 individual tooling stages and takes nearly 20 hours to carve every little detail. Most of the keyboard housing is machined aluminum as well, wrapping the ROG Mothership in a protective metal jacket that's strong enough to survive everyday knocks and bumps. Each piece is brushed and anodized for a flawless finish that would turn heads even on a machine with a completely conventional profile.
INSIDE THE ELABORATE COOLING SYSTEM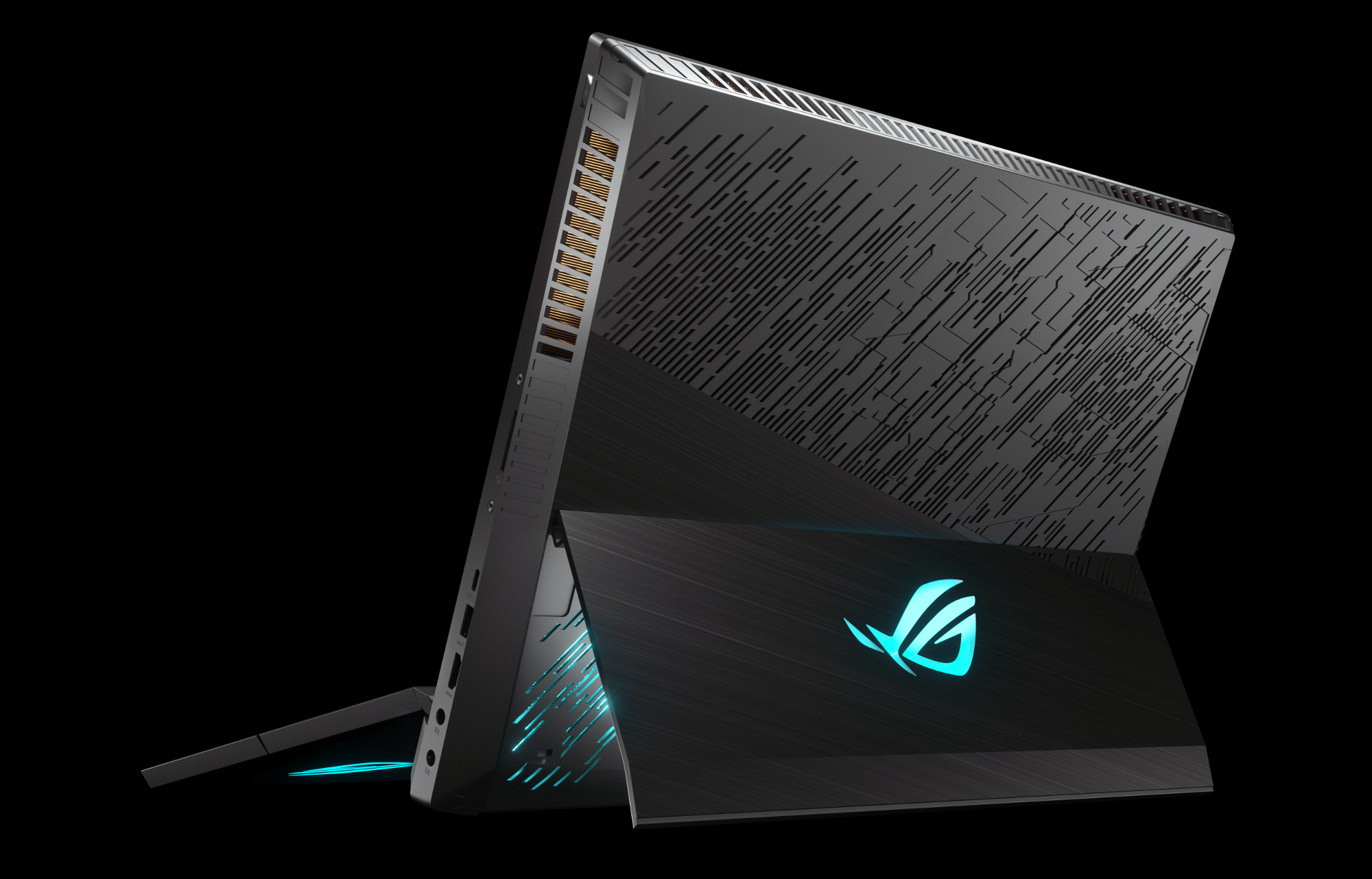 Posture makes it easier for more air to flow into the dual 12V fans, but that's just one aspect of an intricate cooling system that directly affects users. Outlets flanking the top corners blow warm exhaust away from you, while putting the components behind the screen keeps the keyboard cool even after hours of continuous gaming. A special shield prevents heat from the CPU and GPU from affecting the display.Factory overclocked chips generate a lot of heat, so they're covered by a network of eight heatpipes that transfer thermal energy to the heatsinks at the edges. The pipes are linked to the CPU, GPU, graphics memory, and VRM feeding them power. They stretch across four heatsinks lined with 375 ultra-thin copper fins. The fins are just 0.1mm thin, allowing us to pack more into each heatsink without impeding airflow. They combine for a surface area of nearly 200,000mm2.
Keeping the fins clean is crucial to maintaining long-term performance and stability. The standing orientation lifts the air intakes off the table, exposing them to less dust, and particles that enter the cooling system are drawn into anti-dust tunnels that shoot them out of the chassis.
Fan speeds are governed by expertly tuned system profiles that let you quickly adapt to different scenarios using a handy keyboard shortcut. Turbo mode uses the highest frequencies and fan speeds to reach maximum performance, while Balanced mode optimizes performance and cooling to drop noise levels for gaming. Silent mode goes even further to reduce acoustics for lighter workloads and less demanding games. You can also create a custom profile with tweaked fan speeds and frequencies of your own.
FACTORY OVERCLOCKED WITH RAID RIDING SHOTGUN
Not content to play by the rules on any front, the ROG Mothership pushes its CPU and GPU into overclocked territory right out of the box. The Intel Core i9-8950HK CPU usually runs at up to 4.3GHz with all six cores and 12 threads engaged, but we take it to 4.8GHz in Turbo mode, an increase of almost 12%. Having lots of cores with high clocks prepares the system for a wide range of heavy workloads, from rendering complex 3D scenes and effects-laden videos to pairing hardcore gaming with simultaneous streaming, recording, and voice chat.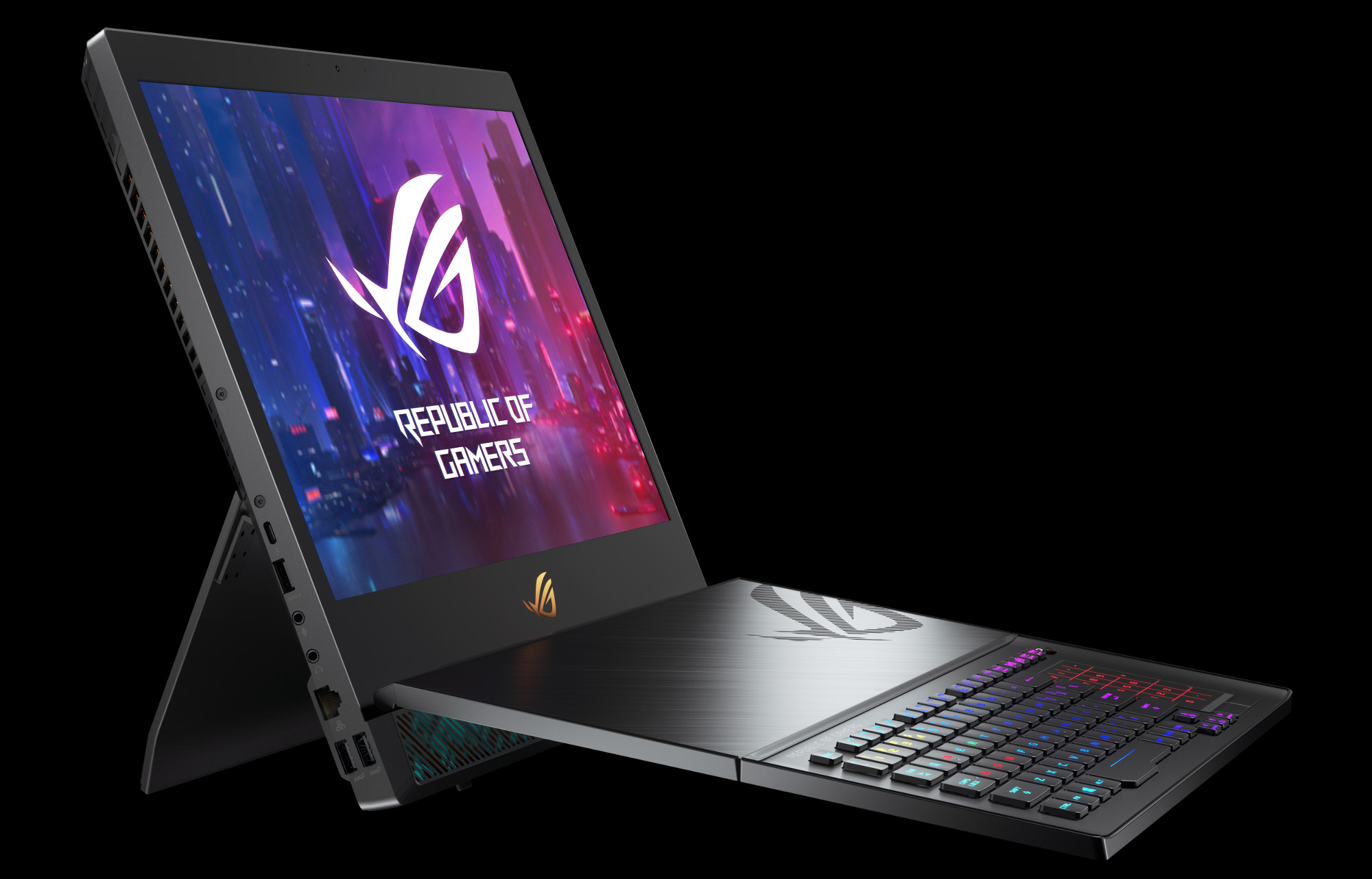 The CPU pairs with up to 64GB of power-efficient DDR4 memory for content creators working on big projects and power users with compulsive multitasking tendencies. It's also linked directly to an industry-leading NVMe RAID 0 array. SSDs normally connect to the chipset, which is constrained by a DMI link to the CPU with only four lanes of PCI Express 3.0 bandwidth—the same as a single high-end M.2 drive. The three-drive HyperDrive Extreme array in the ROG Mothership hangs two SSDs directly off the CPU, bypassing the DMI bottleneck and enabling peak throughput up to a staggering 8700MB/s. All three drives are covered by a heat spreader that improves cooling for sustained storage loads.
WELCOME TO THE NEXT VISUAL FRONTIER
Graphics duties are handled by the latest GeForce RTX 2080 discrete GPU and its accompanying 8GB of dedicated GDDR6 memory. Based on the new NVIDIA Turing architecture, this cutting-edge chip combines traditional CUDA cores for programmable shading with new RT cores for ray tracing and Tensor cores for AI processing. Games can leverage these hardware resources to improve the quality of lighting, shadows, reflections, and other effects that make graphics feel more lifelike. Other software can also use them to accelerate a range of tasks that includes content creation, scientific modeling, and deep learning, allowing the ROG Mothership to moonlight as a portable workstation.
The GPU cooperates closely with the G-Sync display, which matches its refresh rate with the frame rate in real time. Synchronizing frame delivery smooths out natural performance fluctuations to make gameplay feel smoother and more engaging. It also reduces input lag and eliminates ugly visual tearing that can interrupt your immersion. While G-Sync is ideal for gaming, it prevents the GPU from shutting down completely to save power. We use a proprietary GPU switch to compensate. With a few clicks and a reboot, you can switch between G-Sync for a better gaming experience and Optimus for longer battery life.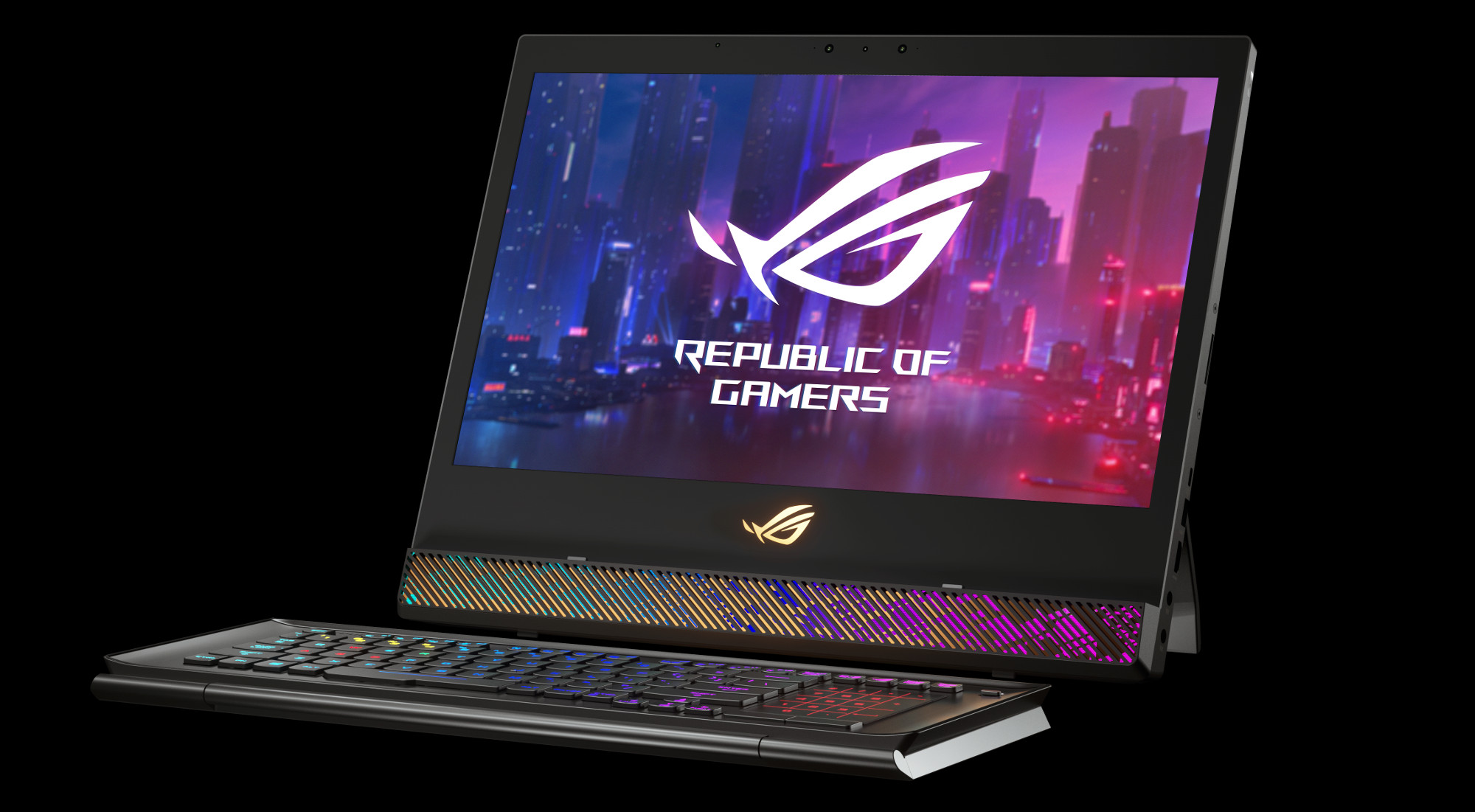 Speed is the focus of the first display to be offered with the ROG Mothership. The 17.3″ panel takes IPS-level AHVA technology up to 144Hz with an ultra-fast 3-ms response time. The high refresh rate enables impeccably smooth movement that helps you get a better feel for the game, and it's easy to saturate the screen with triple-digit FPS thanks to the Full HD resolution. The picture looks incredibly crisp thanks to the quick pixel response, which helps you focus on fast-moving targets. Wide viewing angles let you take full advantage of the detachable design, whether you're glancing at a chat to the side while playing on an external monitor, or propping up the system on a shelf to binge-watch with a bunch of friends.
SOAK IN THE SOUNDSCAPE
Recalibrating the desktop replacement form factor lets the ROG Mothership offer impressive sound from four front-facing speakers that fire right at you. The speakers are powered by smart amplifier technology that boosts total output to an effective 16W while also monitoring temperatures and excursion to prevent distortion and damage to the cones. You can crank the volume and enjoy louder output, more bass, and greater dynamic range.
The audio is anchored by a premium ESS Sabre DAC and headphone amp with Hi-Res Audio certification up to 24 bits and 192kHz. The output has greater range, less distortion, and a more accurate frequency response than conventional alternatives. Sonic Studio III software adds surround sound virtualization for headphones and other devices like VR headsets and even external USB DACs.
Recording is handled through a microphone input or by the array mic that sits next to the webcam. The built-in solution filters out background noise like typing and game audio to capture your voice more clearly, while the webcam captures 1080p30 footage fit for streaming and Windows Hello facial recognition.
HAVE THE KEYBOARD YOUR WAY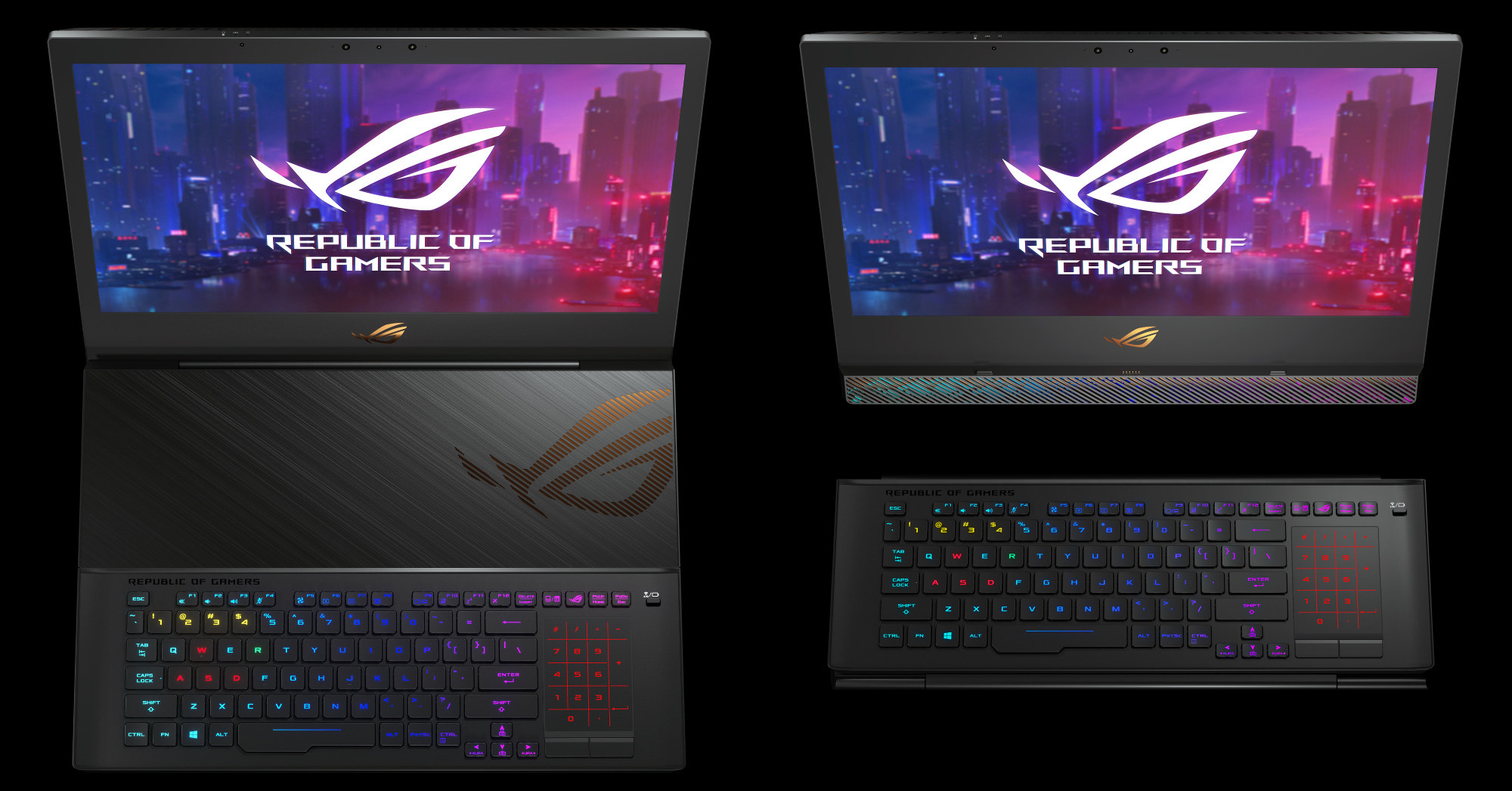 The detachable keyboard flips down to sit at a comfortable angle for typing. In seconds, it pulls away from magnetic anchors and folds to reduce the footprint by half. Hiding the hinge inside the machined aluminum keyboard frame was one of the most difficult aspects of the project. When separated, the keyboard connects over low-latency 2.4GHz wireless for maximum flexibility or via the included Type-C USB cable. You can choose not only where to place it, but also how to connect it. This freedom is a stark contrast to the rigid keyboard positions inherent to gaming laptops.
Each key has 2.5mm of travel enhanced by fast-firing Overstroke technology. The underlying switches are built to last and rated to survive 20 million presses. Curved caps keep your fingers centered, while a wider space bar provides a larger target for your thumb. The function keys are separated for easier recognition, and the touchpad on the right transforms into a backlit numpad with the touch of a button.

Per-key backlighting opens up a world of options for customizing colors and effects for different games and applications. A few clicks in our Armoury Crate software are all that's required to highlight important keys and clusters. The same software controls the RGB lighting embedded below the display and behind the kickstand, and you can synchronize it all with compatible peripherals via Aura Sync. Matching lighting across multiple components is an easy way to elevate the look of your setup.
CONNECT TO THE NEXT GENERATION
The ROG Mothership leaves gigabit networking in the dust starting with a 2.5G Ethernet controller that more than doubles the speed of typical wired ports. It's paired with a next-generation Intel® Wi-Fi 6 AX200 module that pushes peak throughput up to 2.4Gbps under ideal conditions. The wireless module is based on the standard otherwise known as 802.11ax, which in addition to boosting flat-out speed, borrows techniques from the cellular industry to improve traffic management and overall efficiency for busy networks.
Patented ROG RangeBoost tech augments the WiFi by constantly scanning your surroundings and shifting between two pairs of antennas to maximize signal strength. The antennas are arranged to cover each others' dead spots to improve reception and extend range.
Connect up to three displays can via HDMI 2.0, Thunderbolt 3, and Type-C USB ports. The latter comes directly from the GPU and also supports VirtualLink for next-gen VR headsets. With three USB 3.1 Gen 2 ports and one Gen 1, there's enough connectivity to power a complete desktop experience.
ROG MOTHERSHIP GZ700 SPECIFICATIONS
Processor
Intel® Core™ i9-8950HK
Operating system
Windows 10 Home
Windows 10 Pro (ASUS recommends Windows 10 Pro)
Display
17.3" FHD (1920×1080) IPS-level panel, 144Hz, 3ms, 100% sRGB, Optimus, G-SYNC™
Graphics
NVIDIA® GeForce RTX™ 2080 8GB GDDR6 VRAM
Memory
DDR4 2666MHz SDRAM up to 64GB
Storage
3 x M.2 NVMe PCIe 3.0 x4 512GB SSD
Wireless
Intel® Wi-Fi 6 AX200, 2×2 802.11ax Wi-Fi
Bluetooth® 5.0 (Version may vary as the OS upgrades)
Connectivity
1 x USB3.1 Gen2 (Type-C) / Thunderbolt 3
1 x USB3.1 Gen2 (TypeC) / VirtualLink
3 x USB3.1 Gen2 (Type-A)
1 x USB3.1 Gen1 (Type A) / USB charger +
1 x HDMI 2.0
1 x 3.5mm headphone and microphone combo jack
1 x 3.5mm microphone jack
1 x RJ-45 jack
1 x SD card reader
1 x Kensington lock
Keyboard
Detachable with wired or wireless modes
Per-key Aura Sync RGB backlighting (Aura Sync wired only)
2.5mm travel distance
N-key rollover
Audio
4 x 4W speakers with Smart Amp technology
Array microphone
AC adapter
2 x 280W power adapter
Dimensions
410 (W) x 320 (D) x 29.9 (H) mm
Weight
4.7kg (estimated)
AN EXCLUSIVE GLIMPSE INTO THE FUTURE
The ROG Mothership ranks among the most exotic and innovative gaming systems the Republic of Gamers has ever built. It offers a new direction for portable desktop replacements, breaking free from a rigid laptop legacy that makes too many needless sacrifices. This vision of the future will available starting in Q2. Stay tuned for more details.